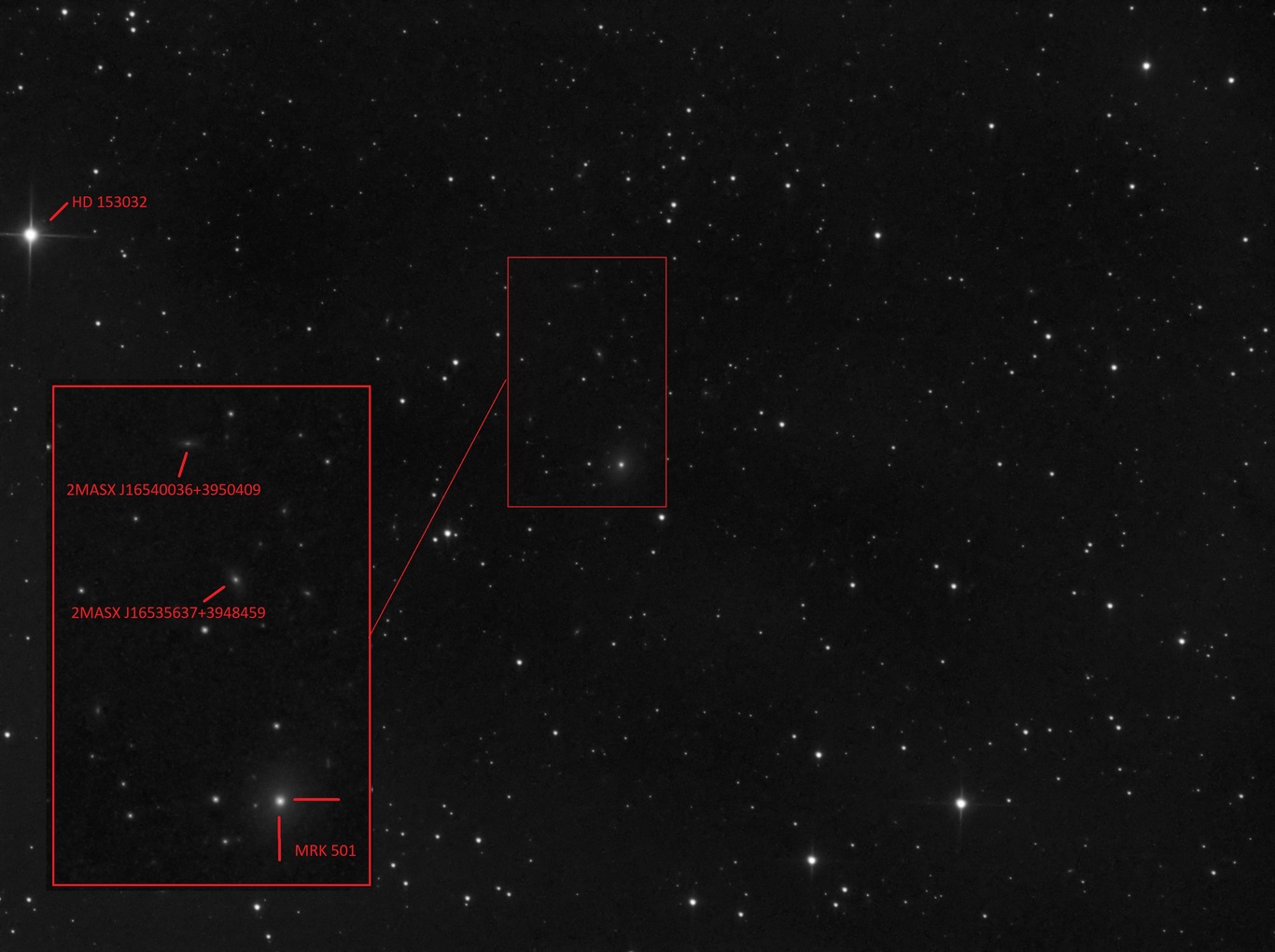 Target Details
Markarian 501 (or Mrk 501) is a galaxy with a spectrum extending to the highest energy gamma rays. It is a blazar or BL Lac object, which is an active galactic nucleus with a jet that is shooting towards the Earth. It is located around 456 MLy from Earth.
The gamma rays from Mrk 501 are extremely variable, undergoing violent outbursts. The gamma ray spectrum of Mrk 501 shows two humps. One is below 1 keV and can be considered to be X rays and the other is above 1 Tev. During flares and outbursts the peaks increase in power and frequency. The galaxy is also variable in visible light between magnitude 14.5 and 13.6.
Blazars are likely to originate from matter falling into a black hole and possibly a binary black hole. The velocity dispersion (which is the maximum difference in the velocity toward or away from Earth) observed in the galaxy is 372 km/s which predicts a black hole mass of (0.9 − 3.4) × 109 M. However, dispersion of velocity was also measured as 291 and 270 km/s so the central mass may be less. A 23-day variability suggested that an object may be orbiting the central black hole with a 23-day period.


HD 153032 (HIP 82801)
This circumpolar star is located around 1300 Ly from Earth. It is a main sequence star with an Absolute Magnitude of 8.35, it's colour index is 1.48, this would give it a red colour.


2MASX J16540036 +3950409
Unfortunately I cannot find much information on this galaxy, I expect it's distance is greater than 200 Mly.


2MASX J16535637 +3948459
Unfortunately I cannot find much information on this galaxy, I expect it's distance is greater than 200 Mly.
Capture Details
Data captured 9th September, 2019.
39x 3 minute exposures with Luminance filter.
Total Exposure = 2.0 hours.
Equipment Details
Skywatcher Quattro 200 CF
NEQ6 Pro
Atik 428EX Mono
Skywatcher ST-80
QHY5L-II
Processing Details
This image was processed in Pixinsight & Lightroom.
Calibration and Stacking in Pixinsight using Batch PreProcessing
Dynamic Crop - To remove black edges.
Dynamic Background Extraction - To remove gradients.
Deconvolution - To tighten stars.
Histogram Transformation - To stretch the image.
Export as JPEG and import into Lightroom.
Reduce Shadows (-100)
Increase Luminance (+50)
Export final JPEG for upload.